In an intense two year development process, NOSRAM was again able to widen the horizon of brushless technology. NOSRAM is proud to return with a new benchmark setting speed control platform: the comet evo & comet HD brushless speedos will rock the market. Beginning from a blank sheet of paper, the aim of NOSRAM's R&D engineers was to replace the three existing pearl speed controls by the two comets. The NOSRAM comet speed controls are ready for modified and stock racing, they feature multiple options for your individual perfect setup.
Being the successor of a World Championship winning speedo is a strong commitment. How can the comet be even better? What does it make stand out from the crowd? Tremendous power output over the whole rpm range, easy setup, optimized cooling and unmatched software are only some of the comet's highlights. The innovative case is tailored from machined aluminum resulting in a better heat dissipation which results in cooler running temperatures even under toughest competition conditions.
NOSRAM has never released a more powerful speedo. Everything is ready for a great success story. Even the price is record setting low. Racers out there, go out on the track, race and win – with the new NOSRAM comet evo & comet HD brushless speed controls!

NOSRAM has done it once again – celebrating an impressive comeback with new technology!
Japanese top driver & multiple World Champion Naoto Matsukura relied on the brand new NOSRAM comet HD speed control at the 2012 IFMAR Worlds. He showed the potential and special class of this completely new developed high-end speedo by securing 4th place overall in the A-main of the world's toughest TC competition.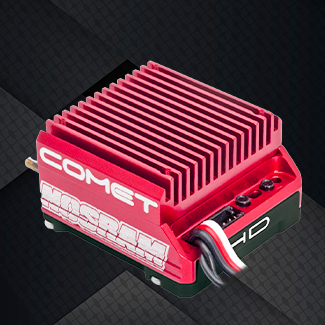 modified and stock racing: all purpose onroad and offroad software for modified and stock classes, incl. boost 0
multi-mode profile adjustment: 7 fully adjustable parameters for stock and modified: auto brake, feel, torque timing, boost timing, boost angle, boost turbo, cutoff voltage
7075 T6 pure aluminium case: for lowest core temperature and tough race design
bulletproof 6V/3A linear BEC
easysolder u-tab design: heavy copper,
multilayer PCB for lowest resistance
pro-brake: new efficient and precise
brake software
usb software updateability: benefit from
all the latest performance improvements
and updates available at www.NOSRAM.com!
revolutionary smart-temp-readout system 3:
allows you to read out the maximum internal temperature for each the speedo and motor
extra small size: 32x34x21mm for easy
installation in all cars