This speed control generates significantly less heat and its performance in racing is extremely consistent on the highest level. Aggressive initial drive settings and the 1/8 BR2 brake – completely developed from scratch – will help you to leave your competitors behind.
The integrated intelligent brake/reverse v1.0 algorithm guarantees huge driving fun also off the tracks.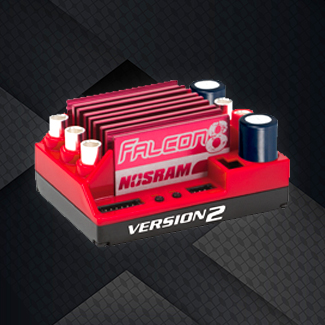 v2.6 team firmware

2S-6S lipo operation: wide input voltage range (7.2V-22.2V) for versatile use, with powerful 6A switching BEC
intelligent brake/reverse v1.0 – ensures an intuitive driving experience when switching between braking and driving backwards
usb software updateability: benefit from all the latest performance improvements and updates available at www.nosram.store/downloads!
optimized sensored design
initial drive mode
new brake developed especially for 1/8 use
internal-temp-check system 3
accessories included
pluggable connections
compact and robust design